Course & Pre-requisites
Course(s) Offered: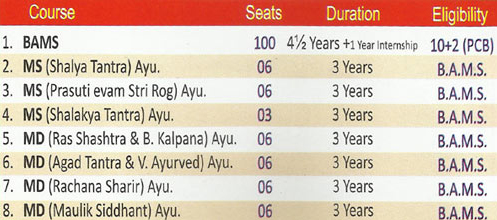 The College runs course leading to the following:
B. A. M. S. ( Bachelor of Ayurvedic Medicine and Surgery ), the only recognized degree in Ayurveda all over India from June 1977. The degree have received recognition and approval of the Central Council of Indian Medicine (CCIM), New Delhi. The C.C.I.M. granted first intake of 50 Seats in the first year 2002 for admission to the degree course of BAMS. The College is planning to start M.D. programs in the near future.
MD & MS: The aim of the Post-graduate degree course shall be the in specialties and super specialties and to produce experts specialist who can be competent and efficient teachers, clinical surgeons, pharmacists, research workers and pro- found scholars in the respective field of specialization of Ayurveda. Click here to download the complete information about the M.D. Program.
Course Duration :
Bachelor of Ayurvedic Medicine & Surgery (BAMS) Program's duration: 4 years and 6 Months.
Doctor of Medicine Ayurveda (M.D.) Program's duration:3 years.
Eligibility:
For B.A.M.S. Progarm:
Minimum qualification of these courses is 10+2 or its equivalent with Science (PCB/PCM) from a recognized board/University. Student must have passed individually in Physics, Chemistry, Biology and English & with minimum 50% marks in Physics, Chemistry and Biology taken together (40% for SC/ST students). Direct admission on the basis of merit and interview is also possible.
For M.D. Progarm:
Click here to get complete deatils of M.D. program about various criterias (i.e. Objective & Scopr, Specilization, Thesis, Eligibility, Program duration or Mode of Admission etc.).
Download Center: